Organifi Green Juice Tasted, Reviewed And Exposed – REAL 1st Time Taster Reviews Green Juice!
I'm Sye with Things Very Good, and today I'm tasting Organifi Green Juice for the 1st time, so you can see my reaction and decide for yourself if Green Juice is for you.
In This Video and Article I cover the ingredients, give you the facts and taste Green Juice for you to see.
I've linked to the actual sales page in case you want to purchase Green Juice, and in case  you prefer to watch the creator talk about Green Juice without seeing my review 1st.
==>Order Your  Organifi Green Juice Through This Link For Best Price!<==
The creator of Organifi Green Juice, Drew Canole makes the point that his Green Juice contains 11 Super foods that are better than Kale.
The story of Green Juice, as Drew shares it, involves him using it 1st; It helped him to feel better and lose 35 pounds.
It's basically a story about being truly healthy.  Drew decided to make it his mission to help other people get the kind of results he experienced, and that's how Green Juice was born.
Even though you might not think of a green drink as a key to weight loss, Drew shares stories about the many people his drink has helped to drop a considerable amount of weight.
He says his drink can help a person lose as much as 20 pounds in 3 months; In fact some people have lost more weight than that, and he reveals who they are in the video I've linked to on this page.
His drink is also supposed to make your skin and hair look younger and more vibrant.
He talks about the food in it that gives you as much energy as coffee without the negative side effects.
He reveals how a lot of the so called nutrition industry experts are giving you advice that's not helping you. They are kind of the enemy of you getting the results you want for your health.
Drew says these so called experts don't really like him sharing the information he's sharing with you.  As a result, he doesn't know how long he'll be able to keep putting out the kind of information he is.
Lucky for you, I'm helping him out too. They can't stop all of us from sharing good things, Right?
He talks a lot about losing weight or at least not getting over weight and how many people struggle with that, but that's not all Green Juice is about, and the taste test I did is going to help you decide if you want to give it a try.
Organifi Green Juice Super food number 1
Drew points out that one of the super foods, Spirulina helps keep hunger at bay, just enough to help you eat a little less than normal every day, without feeling really hungry.
I'm happy to see that he goes on to say that you should keep eating enough food to keep you healthy.
By the way, since Drew talks a lot about weight loss, just in case it's not something you are concerned about, this drink isn't only about weight loss.
The ingredients are good for you on multiple levels, and they're also all organic.  Drew focuses a lot on weight loss, but that's mainly because he knows a lot of people care about that.
Keep in mind, you're not getting a full tablespoon of Spirulina in a serving of Green Juice, and that's probably good, because you might not like that ingredient all by itself.
That being said, 1 tablespoon contains about 4 grams of protein, plus Spirulina is high in vitamin E, calcium, zinc iron and copper. Drew says these nutrients supercharge your metabolism.
Again, it's all about looking and feeling great, as Drew emphasizes. He uses terms like melting belly fat, and metabolism revving.
I don't blame him for using terms like this. He has a product with great ingredients and he wants you to be excited about it.
The main appeal for Drew's Green Juice might be something he refers to as the 7 second green spoon trick.
Basically, it's about getting a bunch of good things in your body real quickly, without all the preparation and clean up you'd have to do if you were juicing, blending, etc.
He recommends the 7 second green spoon trick 1st thing in the morning for best results.
Getting back to the better looking hair and skin, Drew attributes that, at least in part, to the herb I'm calling Super food number 2 – Ashwagandha.
Ashwagandha is an herb which contains compounds called steroidal alkaloids, that as Drew says, "help your skin heal signs of aging like dark spots, blemishes, fine lines and wrinkles." It also reduces stress.
He does have testimonials from users claiming that their skin looks better, so there may be something to this.
Green Juice Super Food Number 3
Getting back to one of the energy giving aspects of Green Juice, it might have a lot to do with Matcha.
Matcha is a very specially prepared green tea, and if you haven't had IT, it's different from any other green tea you've had.
Matcha doesn't create the crash associated with drinking coffee. It contains L-theanine;  L-theanine has a lot of the same effects as caffeine, but without the crash.
L-theanine is known to be relaxing to the mind, but at the same time it increases alertness.  To be clear, Matcha does contain some caffeine as well, in case that's a concern for you.
Drew also reveals how Matcha is super high in antioxidants.
Getting to another benefit of Green Juice, it's a lot about convenience.
I know fresh is best, and I eat a lot of fresh foods, but the reality is, a lot of people really don't have the time, or want to take the time to prepare foods and clean up afterwords.
Green Juice might not be as good as going and getting all of the ingredients fresh from where they grow, but it's certainly a lot easier to get into your body this way; You still get a lot of goodness into your body, even though it's not fresh.
As Quoted From Drew, Green Juice is "USDA organic, gluten free, soy free, dairy free, & vegan.
Wheat Grass Juice is another one of the super foods contained in Green Juice. We'll call it super food number 4.
Drew boasts that 1 ounce of wheat grass is comparable to eating over 23 pounds of the usual vegetables. The message I'm getting here is it's packed with nutrition.
The 5th Superfood Drew mentions is Turmeric.
Drew talks about how Turmeric helps with fat loss. This has to do with the effect it has on the body regarding the way sugar is metabolized.
THIS LINK shows that curcumin has a positive effect on how the body metabolizes sugar.  I thought it was a good idea to include this in case you were wanting some evidence.
When it comes to the taste of Organifi Green Juice, Drew makes the point that this drink tastes good.  He points out, the taste is usually what stops people from drinking something like he's created, and that's why he went out of his way to make sure it tasted good.
If you have watched the video, you know what my conclusion about the taste is.
I've read a lot of testimonials about the taste of green juice, and most of them are good. It's still true that some people don't like the taste, just so you know.
Unlike some other green drink companies, Organifi didn't add sugar to make their Green Juice taste sweet. This is where Drew mentions something else in Green Juice that is in addition to the superfoods.
This ingredient contains a compound that is 170 times sweeter than sugar but has no effect on your blood sugar levels.
The fruit is called monk fruit.
Drew brags that just a touch of monk fruit extract gives Green Juice that "sweet smoothy taste, without all the fattening effects of sugar."
Monk fruit is considered so valuable and rare by the Chinese government that they have banned it's genetic material from leaving the country.
So… Monk fruit is grown and manufactured exclusively in Asia, and is pricey to import.
Organifi was able to work out a deal with one of the growers and they've included it in Green Juice.
Monk Fruit is also known as Luo Han Guo, and it's benefits go beyond being sweet without raising blood sugar levels.
This fruit contains a special type of antioxidant called mogrosides.  In studies Mogrosides have been shown to have beneficial effects on inflammation in addition more serious medical issues.
The 6th superfood mentioned is Chlorella.  I happen to like this one a lot myself. It's very high in protein, chlorophyll, vitamins and minerals. Drew refers to it as nature's multi vitamin.  It's considerably high in Vitamin A, Iron and Zinc to name a few.
Superfood number 7 is Eureka Lemon; It's mainly included for it's high vitamin C content and alkalizing effects on the body.
Superfood number 8 is organic red beet root. It was included for it's healthful effects on liver function, partially due to it's content of betaine, pectin, and betalain.
You may already be aware that beets have a detoxifying effect on your blood.
Superfood 9 is Spearmint, which was included to help with digestion; It's also known to help with alleviating headaches.
Coconut Water is Superfood number 10, and it was included for a number of reasons.
The Organic Coconut Water Powder has an abundance of electrolytes, including potassium, and helps your body to absorb even more of the water you drink.
More water absorbed is good, right?
SUPERFOOD Number 11 In Organifi Green Juice
The 11th Superfood ingredient included in Green Juice, and the one Drew speaks most highly of, is Moringa.
It's extremely high in Vitamin A, potassium, calcium, vitamin C and iron.
Referred to as "The Tree Of Immortality" by some cultures, Moringa is also touted for it's nourishing effects on the skin.
Drew talks about it's ability to help you appear younger on the outside.
It contains a compound called Zeatin which has been studied and shown to have anti aging effects on skin.
Drew brags about how Moringa contains several thousand times more Zeatin than any other known plant.
One of the most crazy things about Organifi Green Juice is their guarantee.
Drew says that you will be healthier, have more energy, have more youthful skin and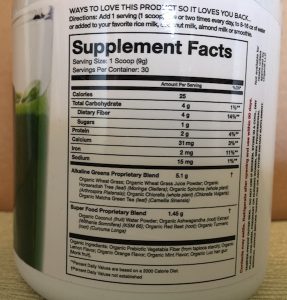 you'll be able to drop pounds, if you're carrying extra weight.
I can tell he's confident you'll like Green Juice because he says, if you don't love the taste you can send the empty container back and get your money back.
In addition, if you eat only vegan friendly foods like me, you'll be happy to know that Green Juice has only Vegan friendly ingredients.
Convenience is one of the biggest benefits; He brags only 7 seconds to make, but even if it takes you a minute, that's pretty convenient.  It's really only about mixing it in water.
Below I've quoted directly from the bottle to sum up some of what we've gone over about Green Juice:
No shopping
No blending
No juicing
No clean up
Boosts Immune Function
Hydrates & Revitalizes
Naturally Balances Hormones
Alkalizes To Help With Occasional Stress
Supports Mental Clarity
Organifi Green Juice contains no fillers, additives or artificial ingredients.
In addition it's made from 100% Organic ingredients.
I wouldn't say Green Juice is the answer to all of your problems.
Green Juice is however a very high quality organic ingredient blend of great ingredients.
It's easy to use, and it's highly nutritious.
BUT…
Does Green Juice Taste Good?
As you can see in my video, I did taste it, and I can say with certainty, It tastes better than most green drinks.
I can also say I truly like the taste.
It's also got that unbeatable guarantee.
I hope this review helps you decide if Green Juice is something you want to add into your diet.
Drew says be sure to order through the links connected to the sales page I'm linking to to make sure you get the highest discount you can on Organifi Green Juice.

Do you have a favorite Green Drink? Have you ever tried Organifi Green Juice? If you have, how did you like it?
Please share your thoughts with us at Things Very Good.