Ex Vegan Tries Carnivore – Will I Make IT?
Ever thought about eating only Meat and other foods derived from Animals?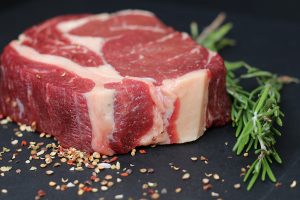 Eating only meat was far from me a year ago, as I thought it was unhealthy.  I was also Vegan, which made it practically unimaginable.
If you grew up when I did, you probably learned that eating meat was associated with Heart Disease, Cancer and other diseases.
Now, eating Vegan is on the rise, and a lot of experts are promoting it as the best diet for you and the planet.
So Why Eat A Carnivore Diet?
Thanks to a few people I've come to learn about, I've went away from a Vegan diet to see if eating more animal based foods could benefit my health.
That's what's led me to this experiment. After incorporating some animal foods, I did notice some seemingly good changes.
Recently, I started learning about pretty miraculous changes people going on the carnivore diet were experimenting, and that got me even more curious.
I hope you'll follow me through this experience to gain some insight about the carnivore diet for yourself.
If you're interested in reading The Carnivore Diet Book, you can pick that up HERE!
You can also join Shawn Baker's Carnivore Training System at this LINK!
The 1st day eating carnivore was easy, but different than I expected. I'll be posting videos for the rest of this week if you're interested in seeing my full experience.
Days 2 & 3 Eating Carnivore
You saw above how my 1st day of carnivore was and now I've shared everything I ate on days 2 & 3 in this carnivore update.  More is coming through the week.
My 5K time was not as good as usual, but it might not be related to eating carnivore as I've explained in the video.
I'm definitely getting a lot of my calories from organic milk and cream. I'm not sure if many other carnivores are doing this, so I'll look into that a little more to see if it's recommended, and report back what I find as the week goes on.
At this point, I don't feel like it will be hard to make it through the week, but I think I will be happy to have green smoothies and some of my other favorite foods again when this week is over.
On Day 4 Something happens, so don't forget to check back and see.
Want to lose weight or get in great shape. Check out my program, Healthy Fit Self HERE!.