5K In Under 21 Minutes 30 Seconds – How I Smashed My Personal Best 5K Time And You Can Too
If you're ready to beat your current 5K time of more than 21 minutes 30 seconds, you're in the right place, & I'm going to share the exact conditioning and strategy I used to do it.
Conditioning To Run a 5K In Under 21 Minutes 30 Seconds
I'm very excited about the fact that I just broke my personal best treadmill 5K run of 21 minutes 40 seconds. I have been wanting to break my personal best for several months, but I just wasn't getting there with the strategy I was using.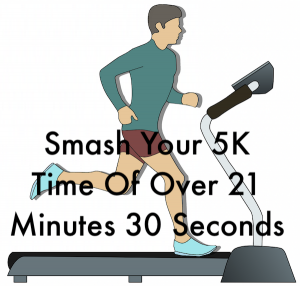 The good thing is I was conditioning myself to beat it all the time I was trying, and I hope my experience helps you.
For starters, if you run 8.5 mph for the whole 5K you're going to beat a time of 22 minutes.
For conditioning, I recommend getting used to running your 5K in under 22 minutes several times, so you feel confident doing it anytime.
I also found that running 8.5 mph for the whole distance works, but I like to break it up a little and I think this could be helpful for you.
Try running 8 to 9 laps (2 to 2.25 miles) at 8.5 mph, then take a break for a lap or less at 7 miles per hour.
Wait until you feel a little drop in the pain you've been feeling at 8.5 mph, then jump back up to 9 miles per hour for a couple of laps before finishing most of the last lap at 8.5, and then jumping up to a sprint of around 10 mph to finish.
You can obviously play around a little with the last mile to 1.25 miles, the key being to make sure you are still consistently finishing in under 22 minutes.
This conditioning will give you the confidence to make the leap to a 5K in under 21 minute 30 seconds.
The Exact Strategy I Used To Smash My Personal Record And Run A 21 Minute 9 Second 5K
1st, I decided, no matter how painful it was, I was going to smash my 21 minute 40 second 5K time on my next run.
I was committed, and you should commit as well.
I decided I was going to run at 9 miles per hour the whole way if I could, knowing that would smash my record, but I was for sure going to do it long enough to KNOW I could beat my personal best time.
The 1st quarter mile at 9 mph was difficult, but I'm happy to let you know, it got easier after that, and I maintained that speed for almost 2 miles.
I knew that was plenty good to beat my current best, as long as I maintained 8.5 miles per hour the rest of the way.
From there I ran up to 2.75 miles at 8.5 mph; Then I jumped back up to 9 miles per hour up to the 3 mile mark; Then finished off with a sprint for the last .11 miles.
It was surprisingly easy to sprint the last .11 miles, knowing I was going to smash my previous personal best, and I think you'll feel the same when you're committed to it.
So that's how I did it. I hope this helps you to smash your time of 21 minutes 30 seconds or longer 5K time. Now that you know my strategy, maybe you can run just a little longer at 9 mph and finish in under 21 minutes.
Thanks for reading about how to run a 5K in under 21 minutes 30 seconds at Things Very Good. I'm honored to have you here.